Cider-Miso Braised Chicken Thighs
In From the Source, Season 3, I was thrilled to visit local business, American Miso Company – traditional, handcrafted, organic miso – right in the foothills of the Appalachian Mountains. In this episode, I experimented with Miso Master products. Miso is an ingredient that I don't use very often, so playing around with it in some simple recipes was so eye-opening! This stuff brings the FLAVOR. For this recipe, I'm using the Miso Master Red Miso, it's naturally aged in wooden vats for a minimum of 1 year, without the use of yeast or artificial heat. Simply soybeans, Blue Ridge Mountain water, handmade rice koji, sun-dried sea salt and koji spores. The added umami, depth of flavor, it's awesome and easy enough for a weeknight!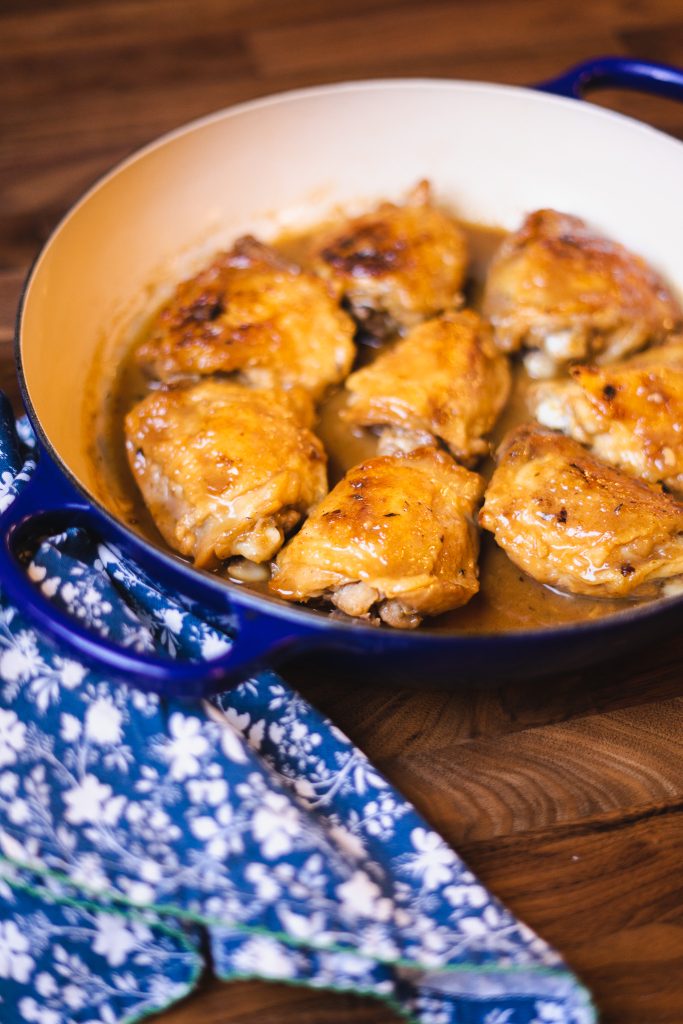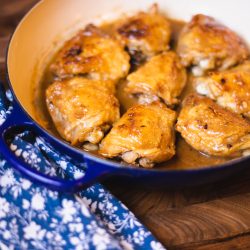 Cider-Miso Braised Chicken
From the Source, Season 3: Miso
Ingredients
3 ½

pounds

chicken thighs

bone-in, skin-on

4½

teaspoons

kosher salt

1

tablespoon

grapeseed oil or other high temp oil

1

cup

shallot

thinly sliced

4

cloves

garlic

thinly sliced

2

tablespoons

red miso

1½

cup

apple cider

1

cup

chicken stock

3

sprigs

fresh thyme

1

tablesppon

butter

1

teaspoon

lemon juice
Instructions
Preheat the oven to 350F. Season the chicken thighs with 3 1/2 teaspoons of kosher salt.

Heat the oil in a large braising pan over medium high heat. In 3 batches sear the thighs starting skin side down for about 4 minutes until golden brown, flip and sear the bottom for an additional minute. Remove the chicken and place on a plate until later.

Add shallot to the skillet and cook until tender and translucent, using liquid released from the shallot while it cooks to scrape up the brown bits from the chicken. Add sliced garlic to one side of the pan and cook until fragrant, being careful not to burn.

Add apple cider, chicken stock, 1 tablespoon miso and thyme and simmer until reduced by half. Nestle the thighs in the liquid and continue to simmer for 5 minutes then pop the pan into the oven, uncovered.

Cook until  they reach 185 degrees (make sure to insert the thermometer probe into the thickest part of the thigh against the bone), at 185 remove them from the pan and set aside, cooking the thighs to this temperature will ensure they are tender and fall off the bone.

Remove the pan from the oven and place on the stove. Place the chicken on a plate or serving tray. Over medium high heat reduce the sauce down to a glaze consistency. Whisk in 1 tablespoon butter, and the remaining miso.

Finish with lemon juice and salt to taste. Serve chicken thighs skin side up, with the glaze spooned over the top.