Muscadine Grape Torte
In From the Source, Season 3, I paid a visit to had the pleasure to work with OTL Farm to learn more about the incredible and tasty, native muscadine grape!
Native to the Southeastern United States, these enchanting grapes possess a rich, earthy sweetness. This recipe balances the natural sweetness of the muscadine grapes with a tender, buttery crust, creating a dessert perfect for afternoon tea, dessert or even breakfast.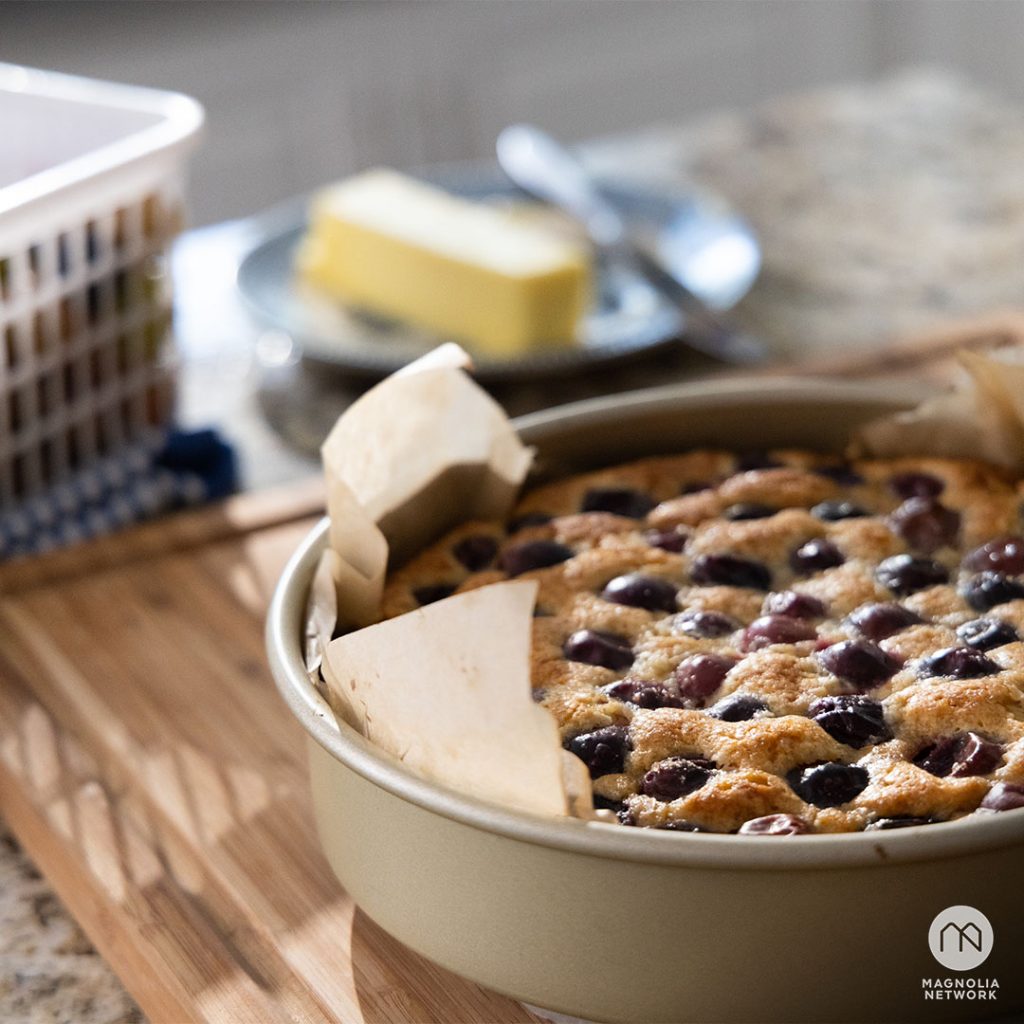 Muscadine Grape Torte
From the Source, Season 3
Equipment
9 inch cake pan

stand mixer, paddle attachment
Ingredients
1

cup

all-purpose flour

1

teaspoon

baking powder

1

teaspoon

salt

1

lemon

zest

3/4

cup

granulated sugar

1/2

cup

butter (one stick)

plus 1 tablespoon for greasing the pan

2

eggs

1/4

cup

maple syrup

4

cups

large, skin-on grapes (such as muscadine)

deseeded

1

tablespoon

demerara sugar

juice of 1/2 lemon
Instructions
Preheat conventional oven to 350F.

Line a 9-inch round cake pan with a 13-16 inch long piece of parchment paper. The Parchment should stick out significantly on two sides, this will help lift the cake out of the pan when it's done. Grease the parchment with either 1 tablespoon room temperature unsalted butter or pan spray.

Combine flour, salt and baking powder together into a bowl. Zest one lemon into the flour mixture and toss to ensure there are no clumps.  Set aside.

In the bowl of a standing mixer, cream the butter and sugar together using the paddle attachment. Cream the mixture on medium speed for 3-5 minutes, until fluffy and pale in color.

Add in the eggs, one at a time on low/med until combined. Scrape down the sides of the bowl with a spatula a couple of times during this process. Add the maple syrup and mix until combined.

Add in the flour mixture and mix until just combined. Make sure to scrape down the bowl at least once during this process.

Pour half the batter into the prepared cake pan. Place half the grapes skin side up in a single layer. Pour the rest of the batter over the grapes. Layer the rest of the on top of the batter, it's okay if they slightly overlap. Sprinkle the demerara sugar and lemon juice over the top of the cake and bake for 45 minutes.

Test the doneness of the cake with a toothpick, it should come out with no wet batter clinging to it, just a few moist crumbs. When the cake is done, remove it from the oven, and rest for at least 5-10 minutes. Once mostly cooled, lift the cake out of the pan using the overhanging parchment paper, and place on a cooling rack.

Enjoy warm or room temperature.