Zesty Bean Salad
This bean salad has everything, creamy nutrition of
Rancho Gordo Scarlet Runner beans
, acidity from piparra peppers and red wine vinegar, briny capers, and herbaceous notes from dill and parsley. Chef Katie Button uses this as a side dish for a cookout, or packs it for lunch throughout the week (it stores well in the fridge for up to 5 days!). Fun fact: Scarlet Runners are one of the oldest cultivated foods of the Americas.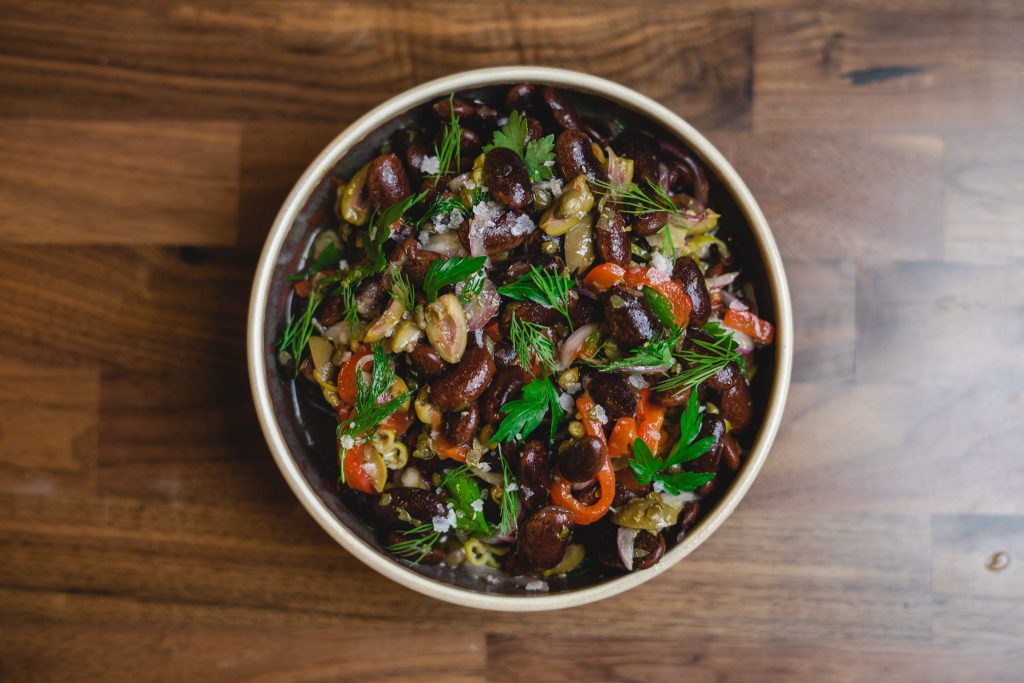 Zesty Bean Salad
From the Source, Season 3
The bean cooking liquor is an exceptional ingredient. It is full of flavor and nutrients from the beans and can be used as a light thickening agent in stock and stew. Use whatever is in your pantry to throw together delicious variants of this zesty salad. Swap green olives for black, add some canned artichokes or even fold in some anchovies.
Ingredients
4

cups

scarlet runner beans

strained and rinsed

1/4

cup

capers

roughly chopped

1/2

cup

green olives

pitted, quartered

1/4

cup

red onion

sliced thin

1/4

cup

picked piparra pepper or pepperoncini

sliced thin

1/2

cup

roasted red pepper

skin and seeds removed, sliced thin

1/3

cup

red wine vinegar

1/3

cup

extra virgin olive oil

1/4

cup

bean cooking liquid

2

teaspoons

kosher salt

1/4

cup

fresh dill

leaves picked

1/2

cup

parsley

leaves picked
Instructions
In a large serving bowl combine all ingredients except the herbs and toss together. Allow the mixture to sit for at least 30 minutes or even as long as overnight.

Right before serving, fold the herbs into the salad and adjust seasoning to taste.

Store Refrigerated in an airtight container for up to 5 days

Cooks Note:

If using freshly dried beans from a known purveyor (beans dried for 2 years or less), there is no need to soak them. If using dried beans from your average grocery store it is best to soak the beans for 4-6 hours before cooking.

To cook the beans, rinse them under running water to remove any debris.  Soak them in the water for 4-6 hours, unless using freshly dried.  After the beans have soaked, pour them with their soaking  liquid into a pot, the liquid should cover the beans by at least 2 inches. Over high heat, bring the beans up to a rolling boil and boil for 10-15 minutes. Turn the pot down to medium and simmer for approximately 1-1 ½ hours. The beans should be tender with a soft bite. Place the beans with their liquid in the refrigerator for 4 hours to chill.