Lima Bean Hummus
This irresistible hummus recipe showcases the unique flavors of Rancho Gordo large lima beans, blended to perfection. Chef Katie Button notes that almost any bean can be transformed into a velvety hummus using this recipe.  Delight in its creamy texture alongside a colorful assortment of vegetables, toasted bread, or crackers.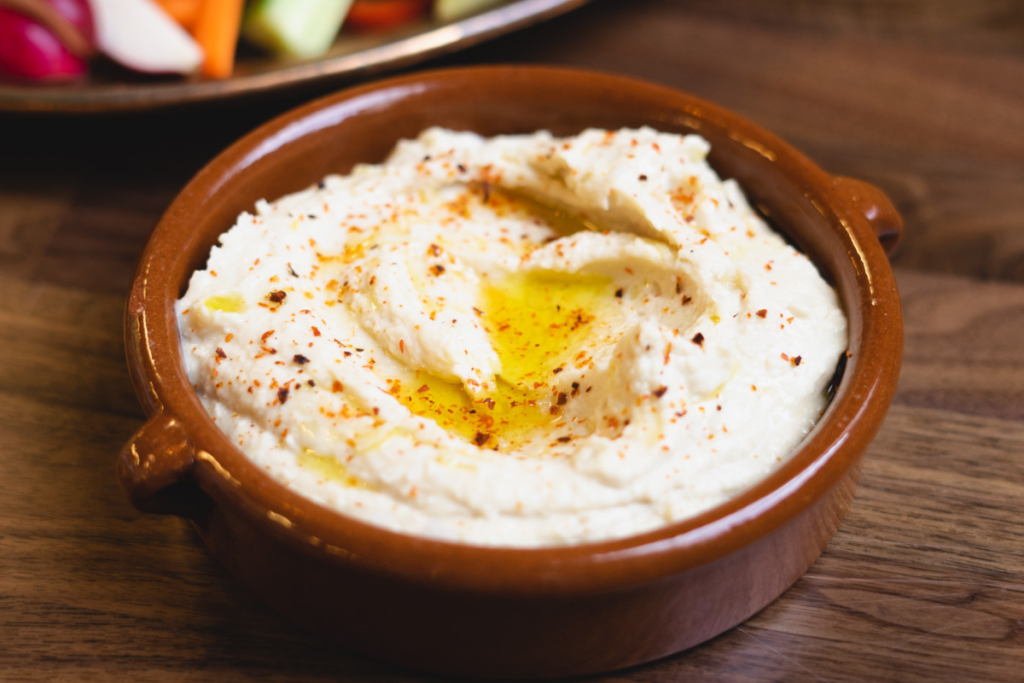 Lima Bean Hummus
From the Source, Season 3
Ingredients
3

cups

lima beans

cooked

1/4

cup

tahini

1/4

cup

bean cooking liquid

2

cloves

garlic

2

tablespoons

olive oil

1

tablespoon

lemon juice

2

teaspoons

kosher salt
for garnish
1

teaspoon

chili pepper flakes

1

tablespoon

chives

chopped

1/2

teaspoon

crunchy salt
Instructions
The hummus will turn out the best if the beans are blended while hot. If using a food processor, place a towel over the opening of the lid while blending. In a blender or food processor, add all ingredients except the cooking liquid and blend, starting on the lowest setting working up to high speed. Stop the blender and scrape the sides periodically throughout blending. Slowly pour in the bean cooking liquid until desired consistency is reached. Taste the hummus and adjust with additional lemon juice and salt to taste.

Serve hummus alongside a variety of raw and pickled vegetables such as carrots, beets, string beans, and endive, toasted baguette, pita, or flatbread crackers. Garnish the hummus with crunchy salt, chives, and chili pepper.

Store refrigerated in an airtight container for up to 7 day

A tip from Katie: You can use any bean for this hummus, but the limas turn out especially delicious.
Cooking Beans
If using freshly dried beans from a known purveyor (beans dried for 2 years or less), there is no need to soak them. If using dried beans from your typical grocery store it is best to soak the beans for 4-6 hours before cooking.

To cook the beans, rinse them under running water to remove any debris. Soak them in the water for 4-6 hours (unless they are Rancho Gordo's). After the beans have soaked, pour them with their soaking liquid into a pot, the liquid should cover the beans by at least 2 inches. Over medium high heat, bring the beans up to a rolling boil and boil for 10-15 minutes. Turn the pot down to medium and simmer for approximately 2 hours. For the hummus, the beans should be overcooked, extremely tender and should fall apart easily. If pulling cooked beans from your weekly pot, place them back on the stove with some additional stock or water and continue to cook them until they are falling apart.